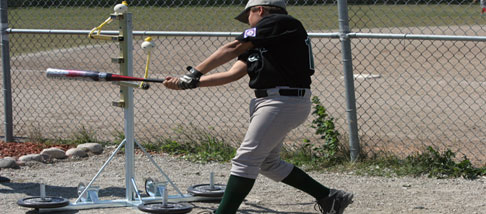 The SlugMaster™ Post Mount Hitting Station
Standard Package
Unique Design
The SlugMaster™ Hitting Station is a special patented heavy-duty ball rope assembly that slides into a heavy gauge steel receiver, which can be permanently bolted or chain-locked to almost any fence or post.
Durable for Heavy Use
Designed specifically for the rugged, high use of teams and sports programs, the SlugMasterTM is an institutional-grade baseball hitting station, capable of taking thousands of hits day after day. Coaches and trainers can use this one single baseball training product with the entire team for years.
Practice Makes Perfect
Everyone knows that the more you practice, the more you will improve. With the SlugMaster™ Hitting Station, your players can get all the batting practice they need. Rather than have them stand around waiting for batting practice, you can use the Hitting Station to let your players swing as many times as they need and improve the efficiency of your practices. The SlugMaster™ can also be used indoors, rain or shine.
Master Every Pitch
The Hitting Station provides a sure target for continuous drills on all locations of pitches. With the stacked receiver, the ball can be set at various heights to allow your players to develop muscle memory for the different pitches in the strike zone, including inside/outside pitches. The SlugMaster™ also lets batters practice driving the ball to all locations of the field.
Protect Your Fences
The SlugMaster™ Hitting Station provides an alternative to hitting balls into the fence, saving fences and the cost of replacing them. With a SlugMaster™ as a part of youth and school training programs, sports programs and field managers can save thousands of dollars in repairing curled fences from soft-toss and tee hitting.
Easy As 1..2..3..
Batters of all levels can quickly snap the SlugPlug Arm into the Receiver and start hitting in just seconds. Special composite ball sounds and feels like real baseball. Receiver mounts to fence posts or poles (hardware included).
With this swing trainer, there is no chasing balls, setting up nets or needing someone to help soft toss. Mount at home or at the ballpark. Made from heavy gauge steel. Yellow zinc plated or stainless steel available.


The SlugMaster™ is a tested and proven hitting station that gives the coach the ability to TEACH hitting techniques at every practice or pre-game. And with NO CHASING BALLS. I give the SlugMaster™ a 100% YES! And recommend that all ball programs consider installing the SlugMaster™ System at their parks."
Terry Steinbach, Former Player Minnesota Twins


SlugMaster Return and Refund Policy
SlugMaster offers a full 60 day trial period on all of its products. If for any reason the customer is not completely satisfied with the product, it may be returned to SlugMaster for a full refund.

If any product should ever fail due to faulty workmanship, it may be returned to SlugMaster for a like replacement.